News Archive
Congrats to Dr. Josh Butcher on his K01!
Congrats to Dr. Josh Butcher on his K01! We look forward to assisting your progression.
Congrats to Miller Lab Collaborators on their recent R01 funding that we are happy to be a part of:
Congrats to Marcus Lawrence
Congrats to Marcus Lawrence for his abstract travel award from the EEP section of APS for EB 2020!
Marcus Lawrence Awarded Postdoctoral Stipend
Fountain of Youth?
Visit to University of Kentucky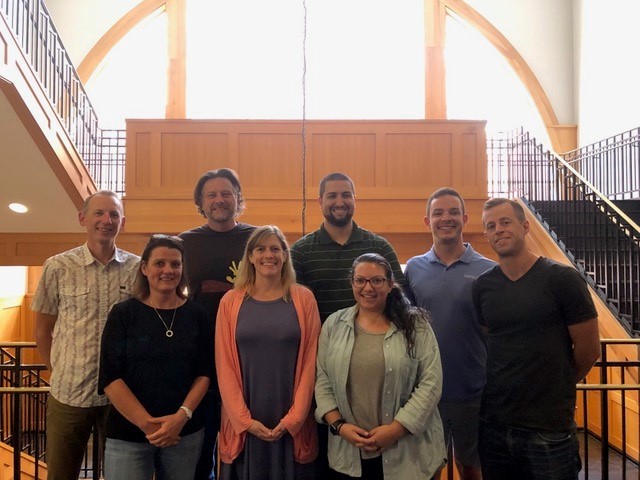 A successful and productive visit to the University of Kentucky to work with our collaborators in the labs of Dr. Esther Dupont-Versteegden and Dr. Tim Butterfield. Thank you for hosting.
Congratulations to Jared Gregston & Claire Abbott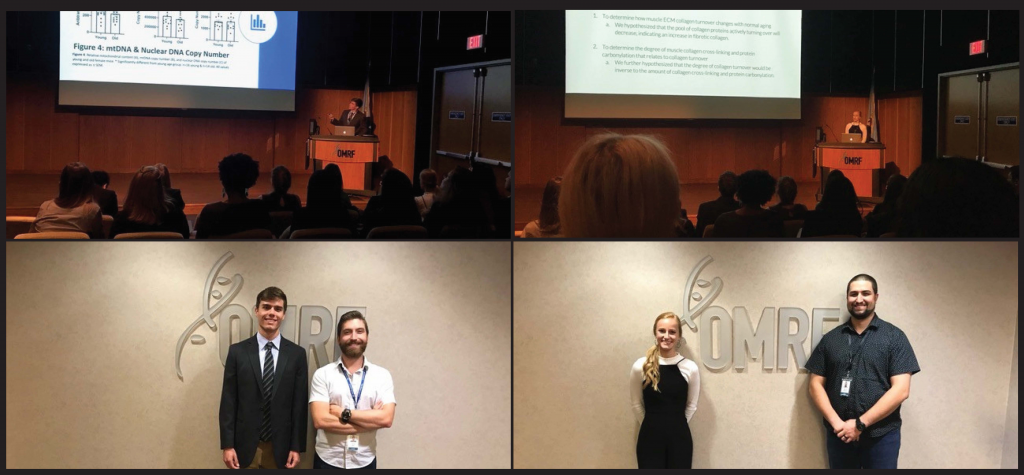 Thanks to Marcus Lawrence & Justin Reid who mentored them through the process.
New York Times features a story about a new study from OMRF's Dr. Ben Miller.
Welcome Fleming Scholars Claire Abbott and Jared Gregston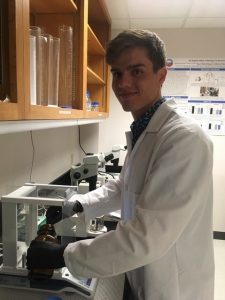 Jared is a sophomore at the University of Oklahoma majoring in biology with an NGO minor. Jared enjoys running, volunteering, and working part-time as an EMT.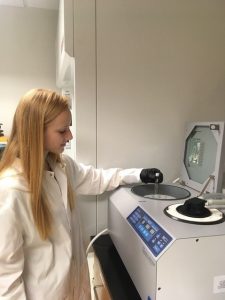 Claire is going into her senior year at San Diego State University as a Pre-Medicine, Biology with an emphasis in Evolution and Systematics major, and an Honors Minor. Claire enjoys running and being active, wildlife photography, and playing guitar accompanied with vocals. She hopes to go to medical school and possibly become a dermatologist and dermatopathologist.
Congrats to Justin Reid
Justin Reid successfully competed for the OMRF Trainee Scholarship. It is rare for a first year to obtain this award, so congrats to Justin.
Journal of Gerontology Publications
New Publications The lab has several new publications including the following noteworthy publications from former PhD student Chris Wolff and current PhD student Justin Reid.  Both publications will appear in the Journal of Gerontology with a series of papers on targeting mTOR for slowed aging. Congratulations! Reid JJ, Linden MA, Peelor FF, Miller RA, Hamilton KL, Miller BF. Brain Protein Synthesis Rates in the UM-HET3 Mouse Following Treatment with Rapamycin or Rapamycin with Metformin. J Gerontol A Biol Sci Med Sci. 2019. PMID: 30864881 Wolff CA, Reid JJ, Musci RV, Linden MA, Konopka AR, Peelor FF, Miller BF, Hamilton KL. Differential Effects of Rapamycin and Metformin in Combination with Rapamycin on Mechanisms of Proteostasis in Cultured Skeletal Myotubes. J Gerontol A Biol Sci Med Sci. 2019. PMID: 30820523
27th Annual Summer Training Course
The 27th Annual Summer Training Course will be held at Oklahoma Medical Research Foundation from June 22 to June 27, 2019.  For more information, please click here.
2019 Oklahoma Geroscience Symposium
The 2019 Oklahoma Geroscience Symposium will be held on April 24, 2019 at the Oklahoma Medical Research Foundation.  Please click here for more information.
Publication Announcement
The TAME trial is big news for aging research. We are excited about the potential for pharmaceutical treatments to treat aging. Establishing a framework to complete such work is critical for our field. We present an opinion about why more research may be needed before pursuing metformin as the drug of choice. Our opinion stems from our concern that it may not be ideal for people who are free of disease, which is an important consideration for treatments that increase Healthspan.  To see publication, click here Geroscience 2019 Konopka.
New Publication
A new publication from our laboratory shows that more data are needed before metformin is prescribed for aging. Our clinical trial demonstrate that metformin can inhibit the positive effects of endurance exercise training on skeletal muscle mitochondria. Mitochondria are intimately related to aging and age-related disease. In addition, first-line recommendations for those at risk for type II diabetes is exercise and metformin. Further research is needed to understand long-term outcomes of metformin in subjects who are not diabetic.  https://www.ncbi.nlm.nih.gov/pubmed/30548390
Funding News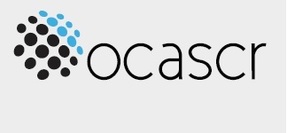 We received funding from the Oklahoma Center for Adult Stem Cell Research (OCASCR) to complete studies using novel approaches to determine the necessity of muscle satellite stem cells for muscle growth. These studies will look at the capacity of muscle to regenerate in the absence of satellite cells. PhD student Jaime Laurin and Staff Scientist Shadi Khademi will be working hard on these projects.
Congratulations Marcus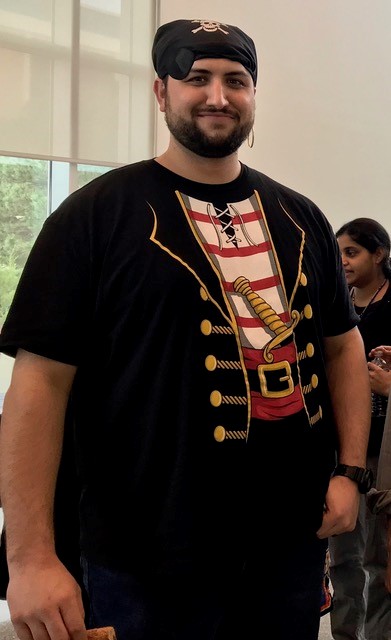 Congratulations to lab member Marcus Lawrence for receiving a T32 Post-doc fellowship in Geroscience. This fellowship is an important career step for Marcus and provides him great resources as he works toward other independent awards.