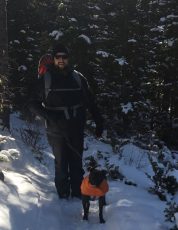 Marcus Lawrence, Ph.D.
Marcus is originally from the central valley of California.  Standing at 6'5", it's easy to see why Marcus was once heavily recruited to play collegiate football.  Luckily, he turned down all scholarship offers at the prospect of a more sustainable career in science.  After graduating with his B.S. in Kinesiology from CSU Monterey Bay, Marcus headed East to earn his M.S. in Exercise Science at Appalachian State University.
Two years wasn't enough time to explore all of the mountains there, so Marcus decided to stay in the area and complete the PhD program in Interdisciplinary Biology at UNC Charlotte.  At UNC, Marcus's dissertation focused on the effects of enhancing glycogen content on aged skeletal muscle's ability to grow in response to muscle loading.  As a current post-doctoral research fellow in the Aging and Metabolism program at OMRF, Marcus has specific interest in developing nutritional, exercise, and/or pharmacological strategies to prevent or reverse the age-related loss of skeletal muscle mass (sarcopenia) and strength (dynapenia).  In his free time, Marcus enjoys hiking, backpacking, mountain biking, and spending time with his fiancé and three dogs.
< Previous Post
Next Post >